craftsmanship on an industrial scale
The history of San Giorgio begins in the 80s and is above all the history of Sabato Bruno and his entrepreneurial dream, to transform a small pastry shop in Castel San Giorgio, on the outskirts of Salerno, into a large croissant company specialized in the food service market: San Giorgio Sweet & Salty.
San Giorgio researches and chooses only the best raw materials to offer excellent products. There quality it is expressed through genuine flavours, the wholesomeness of the ingredients, traditional recipes and particular variations, such as the vegan line and without palm oil. All production processes are controlled and the raw materials are carefully selected to guarantee the best.
Aperitif, aperitif and happy hour are unmissable appointments in which chat, smiles and good taste are shared! If you want your Cafe or yours local both the best where to tease, that yours fry shop is a fixed stop where to buy finger food, choose the salty San Giorgio snacks.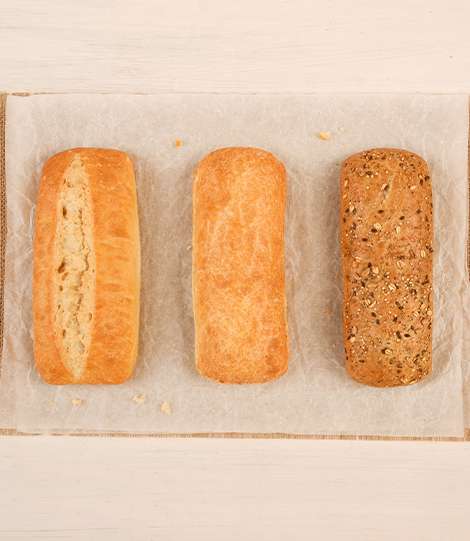 Pangiorgio makes good bread
San Giorgio presents Pangiorgio.
A new line, a new commitment: a project in which tradition And fantasy
give life to the fragrant forms of bread, experimenting with the crunchiness of the crust, the softness of the crumb, the design of the honeycombs. A project that combines young entrepreneurship to San Giorgio professionalism.
Breakfast at your home, as good as at the bar!
The fragrance of freshly baked croissants, just like at the bar, with its unmistakable scent, now at your home!
THE San Giorgio croissants they are easy to cook and quick to prepare and are now also available at the supermarket in convenient 4-piece bags. 
Not only that: even the San Giorgio artisan puff pastry it is available in supermarkets!
Sfogliatella, empty croissant, apricot, cream, nocciocream and empty vegan: look for San Giorgio products in the refrigerated counter.
breakfast at your home as good as at the bar
with delicious hazelnut cream
without milk, butter, eggs and honey
the Neapolitan tradition at your home